We know, we know. Cranberry juice has an unfortunate reputation of being the drink you go to when you're feeling a bit uncomfortable down below.
But it's so much more than that. Yes we love it straight up, over ice, but cranberry juice is also a brilliant ingredient in lots of great cocktail recipes. 
From cosmos to woo woos, martinis to margs, the combination of sweetness and tartness makes cranberry juice such a versatile flavour in cocktail-making. 
Here's our run-down of the top cocktails with cranberry juice to get shaking this summer… 
Where else could we possibly start except cranberry juice's most well-known cocktail companion; the Cosmo. 
All you need for this faithful cocktail are four ingredients, a cocktail shaker and some fancy looking martini glasses. 
Simply shake together with ice and strain into your cocktail glass. If you want to really impress your guests, try out the bartenders' favourite garnish by hovering a shaving of orange peel above a match or lighter flame and bending in the outer edges of the zest to drip some of the orange oils into the glass.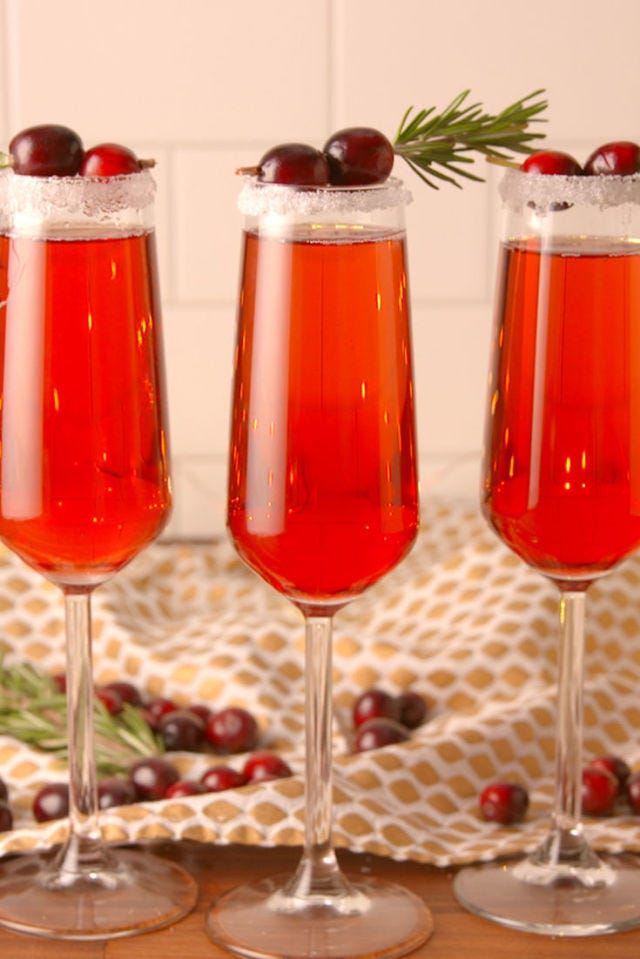 If fizz is more your thing, these berry-red cranberry mimosas are a must-try. The fresh cranberry and rosemary garnish make them a fantastic festive cocktail, although we think they can work year-round as an alternative brunch option to the traditional mimosa.
Keep it simple by just topping up 60ml of Eager cranberry juice with champagne. Or if you're going the whole hog, you can wipe the rim of the flute with a fresh lime wedge and dip it in sugar too, as recommended by delish.com.
Eager cranberry juice margarita
One of our favourites, here's a seriously punchy cocktail inspired by a recipe from acouplecooks.com – a real twist on a classic, with the perfect balance of sweet and tart flavours.
To recreate it, start by running a lime wedge around the rim of your cocktail glass, and dip it into a plate of flaky salt.
Place all ingredients into a cocktail shaker along with the ice and shake until the outside of the shaker feels cold. Strain into the glass, add more ice and garnish with some frozen cranberries.
Rosé and cranberry juice? Now we're talking.
If you're hosting a barbecue or drinks in the garden and have some time to spare before your guests arrive, this cocktail is a sure-fire summer crowd-pleaser.
Grab yourself a jug, and add your rosé, cranberry juice and brandy with a cinnamon stick, teaspoon of caster sugar and slices of half a lemon, then chill in the fridge for an hour.
Just before serving, top up with lemonade and add the frozen cranberries, rosemary sprigs, the rest of your lemon slices and plenty of ice. A fresh twist of the Spanish holiday classic. ¡Salud!
Here's a cocktail the whole family can enjoy, that's also really fun to make.
A refreshing mojito-style mocktail with a cranberry juice twist; start by muddling together mint leaves, sugar and lime juice in a tall glass, using a spoon or the end of a rolling pin.
Next, add a generous handful of crushed ice (the end of the rolling pin may come in handy here too!) and pour over the cranberry juice. Top up with soda and garnish with a sprig of mint and a wedge of lime.
Extra points if you can hang up a hammock in the back garden to enjoy it from.
So there you have it, four crazy good cranberry juice cocktails to give your mixology repertoire a bit of a shake-up. What's even better is that our cranberry juice can be kept un-chilled in your drinks cabinet or bar trolley until you need it – no more rushing to the shops when you fancy a spritz! We'll cheers to that…
We'd love to see your Eager cranberry juice cocktails - tag us in your creations @eagerdrinks on Instagram 📸 
Sign up to a community of juice drinkers
Curated by likeminded people
Food and drink recipes
Honest conversations about
the world of juice
Read next
Musings from Eager HQ. From recipe inspiration to honest conversations about the world of juice and our company journey.
ORDER IT AND YOU'LL GET IT