A classic daiquiri has just three ingredients – white rum, freshly squeezed lime juice, and sugar syrup.
Now you know us, we're all for simplicity here at Eager. But sometimes we can't help but juice things up a bit too.
There are some great ways of adding more fruity flavours to this classic cocktail – most famously blending in fresh strawberries to make a deep pink strawberry daiquiri – but quality fruit juices are well worth experimenting with too. 
We love playing around with our juice flavours in cocktail-making. Pineapple, pink grapefruit, orange, apple, cranberry and pomegranate lend themselves brilliantly to fruity cocktails and mocktails (sorry, tomato juice, but you already know where your strengths lie!)
You can also take your daiquiri-making skills one step further with a frozen version, creating the perfect poolside thirst quencher. And yes, paddling pools do count.
Make frozen daiquiris at home by adding frozen fruit and ice cubes to your recipe and blitzing everything together in the blender to form ice-cold slush.
Have a go experimenting with your favourite juices the next time you fancy a daiquiri, or give one of these three delicious flavour combos a try.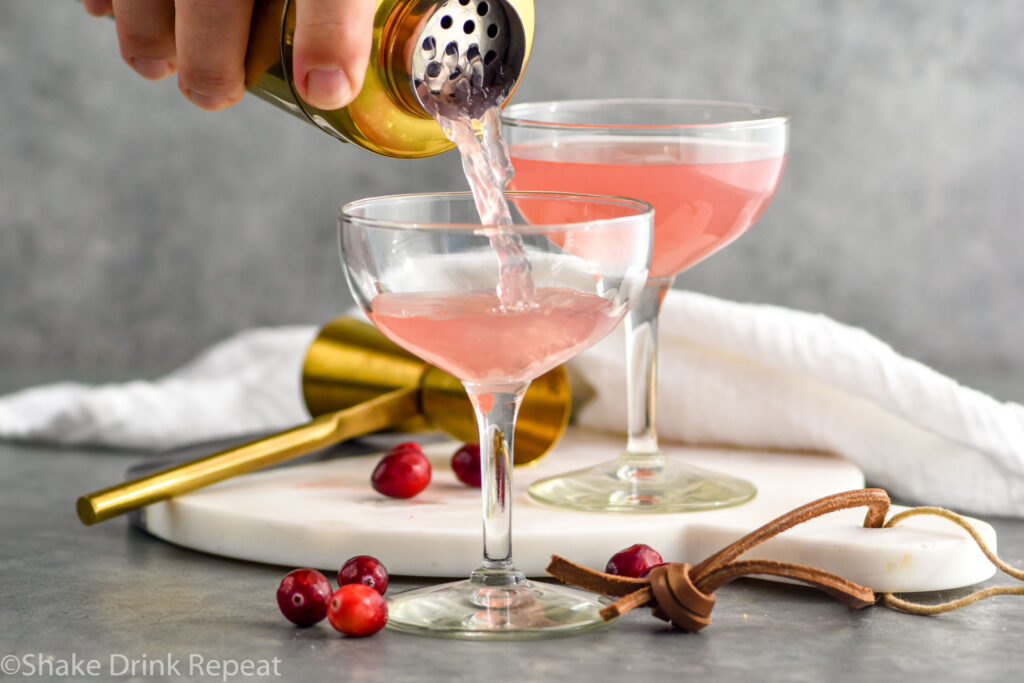 We've said it before, but we'll say it again, cranberry juice is a great addition to any home bar or drinks trolley. In this daiquiri recipe, the tartness really cuts through the sweeter syrupy flavours. Just like a classic daiquiri recipe, combine your rum, lime juice and sugar syrup together with ice in a cocktail shaker, but before you get shaking, add your Eager cranberry juice too. Shake well and strain into a chilled glass.
50ml white rum

15ml lime juice

15ml sugar syrup

Ice cubes
As Havana Club puts it, here's a daiquiri "guaranteed to drive away writer's block"…a recipe created especially for Ernest Hemingway at La Floridita Bar in Havana, Cuba.
If you love a Paloma, this is well worth a try. It combines similar flavours of pink grapefruit, lime juice and syrup, but with rum (instead of tequila) and a dash of cherry liqueur. Put all ingredients into a cocktail shaker with a few ice cubes, shake for 30 seconds and strain into a cocktail glass. Garnish with the zest of a grapefruit – or we use a peeling from the lime we've just squeezed!
50ml Havana Club Añejo 3 Años

5ml maraschino cherry liqueur

10ml sugar syrup

½ lime, squeezed 

Ice cubes 
Why not give Mob's totally-tropical sounding frozen mango and pineapple daiquiri a go? It uses Captain Morgan tiki mango & pineapple rum with fresh mango and lime, and a generous splash of pineapple juice. For a simple pineapple daiquiri without the mango, follow our Difford's Guide recipe.
To make four cocktails, scoop the flesh from a mango and squeeze the juice of two limes into a blender, then add the rum, ice cubes, sugar and pineapple juice. Blend until smooth and pour into martini glasses with a lime garnish.
200ml Captain Morgan tiki mango & pineapple rum (available in supermarkets)

1 mango

2 limes

150g ice cubes

2 tbsp caster sugar
So what will you go for? A straight-up classic or a daiquiri with a fruity twist? Show us your creations by tagging us @eagerdrinks on Instagram 📸
Sign up to a community of juice drinkers
Curated by likeminded people
Food and drink recipes
Honest conversations about
the world of juice
Read next
Musings from Eager HQ. From recipe inspiration to honest conversations about the world of juice and our company journey.
ORDER IT AND YOU'LL GET IT